The next morning - Wednesday, March 19 - a busy day was awaiting Bob. First of all, the Ariola Director,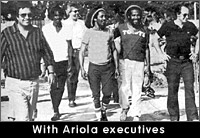 Bob Marley, Chris Blackwell and Junior Marvin were ready to give an interview to the reporters of all the local news. At 10am they were all there waiting for the reporters, but Bob Marley went back to his room, tired of waiting in vain as nobody turned up (everybody got late as it was apparently raining). Only one person, an american journalist, was there early and talked with Bob. Later in the morning, Bob, Junior Marvin and Jacob Miller made some tourism and visited Rio de Janeiro, including the Rocinha shantytown which they found similar to the ghettos in Jamaica. Around midday, Bob was hungry and wanted to eat sushis, but the only restaurant that cooked sushis in Rio was closed (Bob had certainly tried sushis for the first time during his tour in Japan, in April 1979). So he went with Paulo César to a restaurant in Copacabana, went into the kitchen and explained the chef how to make sushis! This is what Paulo César himself remembers: "I was with Bob almost all of the time during his visit. We played football, went to the party. He was very funny. Once, we went to the "Real Astoria" restaurant on Leblon, and he was crazy about eating fish, just pure fish like sushi. At that time, there were no japanese restaurants here in Rio, so Bob went to the kitchen and he prepared his own food!"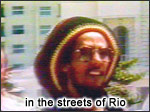 They also made some shopping: they went to the Ipanema hippie market and bought lots of Gilberto Gil LP's. Actually, Bob Marley was most known at that time as the author of "No Woman No Cry", a song Gilberto Gil had successfully covered, selling a phenomenal 500,000 copies in Brazil! Bob probably wanted to hear what his "No woman no cry" sounded like covered by a Brazilian musician, and it certainly explains why his interest in latin/south american music grew. Later, they started looking for sporting goods stores. Bob's passion for football is a secret to no one, and he spent over 1,000 dollars in sports stores in Rio (a match was scheduled in the afternoon of the same day). During the beginning of the afternoon, they also bought several music instruments such as guitars, a mandolin, maracas, atabaques and cuícas (Brazilian percussion instruments). Gillie, Bob's cook, wasn't there to prepare I-tal food for them, and the only way they fed themselves was drinking fruit juices and almost nothing else. When they went in a bar, they ordered mango juice and loved it so much that Bob and Junior reportedly drank more than 20 glasses of it! Bob's favorite flavors were mango and passion fruit.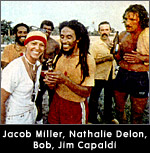 The football game was supposed to take place at 1 pm, but Bob, Junior and Jacob arrived 3 hours late, probably because they were having a really good time in Brazil and were enjoying themselves shopping music and sports stores, and drinking fruit juices. They finally arrived at 4 pm. The game was to take place at Chico Buarque's place, on Sernambetiba Avenue, and Bob was proudly wearing his brand new sports clothes, as well as a promo yellow Ariola tee-shirt. Incidentally, one of his best friends - Alan Skill Cole - used to play in Brazil's national football team and was a football star in that country. When they arrived, 2 teams were already playing against each other: one made of the Ariola people, the other one made of Brazilian musicians such as Chico Buarque himself, Toquinho and Alceu Valença among others.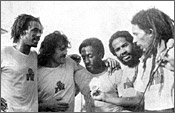 The teams were reorganized and became Bob Marley, Junior marvin, Jacob Miller, Toquinho, Chico Buarque and Paulo César against Alceu Valença, Chicão (from the Brazilian band Jorge) and 4 other people from the Brazilian recording scene. It seems that Jim Capaldi - from the Traffic band - who lived in Rio and a Traffic roadie also played in Bob's team. In the end, Bob's team won with a 3 to 0 score (Bob, Chico Buarque and Paulo César all scored a goal - click here to see a video of Bob scoring a goal!).

Bob's favorite football team was Santos', and he was given a Santos (number 10) shirt that he wore proudly. As it was written in an article from that time: "César played in the 1970 World Cup and was greeted warmly by Marley who said, "I'm a fan of your playing", to which César replied, "And I, your music". Marley remarked about that world championship which had made a mark on the reggae island, "Rivelino, Jairzinho, Pelé.... Brazil is my team. Jamaica likes soccer because of Brazil."" After the match ended, everyone went back to the Copacabana Hotel and Bob reasonned about how high his chances would have been to become a professional football player (Junior once said that Bob would have liked to be a football player more than anything else, even music).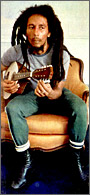 A journalist was fortunate enough to talk with Bob before the match and get the number of his hotel room. A few hours later, when he and 2 friends knocked on the door, Junior Marvin opened the door and took them to the real suite where Bob was staying. Bob opened the door with a big smile and a mandolin in his hands, a strong smell of ganja spreading around. Jacob Miller and Jim Capaldi were inside Bob's suite. Jacob made sure they would feel comfortable by offering them chairs and herb. The journalist remembers Jacob had told them: "Weed, papers, help yourself". They were really high and Bob was doing a mandolin jam with Jim Capaldi clapping his hands, Bob almost dying of so much he was laughing. During his stay, Bob wrote a lot of music in Brazil, with Jacob and Junior. As mentionned in the fanzine Distant Drums (issue 6), some of the tracks on the legendary "Bedroom tapes" (including "Pray for me", a bossa nova track) were probably recorded shortly after Bob came back from Brazil. I think that some could even have been recorded there, as Junior Marvin later said that Bob had indeed composed several songs in Rio that had not been finished.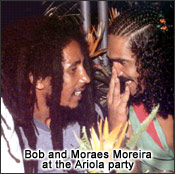 The main reason why Bob, Jacob, Junior and Chris Blackwell were in Brazil was to promote Ariola, and that night they all went to a party organized by the label at the top of Urca Hill, with over 1,000 people in attendance. They all arrived at 10 pm and went to their table, Bob (wearing a tourist "Copacabana Rio Brasil" tee shirt) sitting between Jacob "Killer" Miller and Moraes Moreira. A woman called Marina and those who had played with Bob at the football match were also at their table. On the pictures from that party, as well as all the other pictures of his stay in Brazil, Bob seemed to really enjoy himself and be relaxed, away from all of what he had on his mind and all kinds of pressure. Some people were a bit disappointed as they were hoping and expecting Bob to perform, but he couldn't play as the work visas had been withdrawn and kept by the authorities in Manaus. This feeling was reinforced when Moraes Moreira went on stage to do his show, hoping Bob would join him, but Bob left the party shortly after, followed by numerous photographers and journalists.