On the morning of the last day Bob spent in Brazil - Thursday, March 20 - a press conference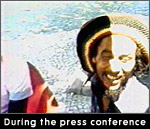 was organized, probably because almost no one had turned up for the interviews the previous morning. But once again, the journalists were late and the press conference ended up being quite short. During this press conference he declared that "Musicians must be spokespeople for the oppressed masses. In our case, the responsibility is even greater because of our religious beliefs. The philosophy of reggae itself explains all of this. Reggae sprang from the ghettos and has always been loyal to its origins, bringing to the world a message of revolt, protest and a call for human rights". "The apocalypse is in the streets, in the daily life of everyone. It's my people that suffer, the man on the street, the poor, It's them that I speak of". Here are a few more excerpts from the press conference:
Q: "So, are you enjoying this trip? What do you think about Brazilian Music?"
A: "Well...I love Brazilian football you know, and we heard a lot about Brazil during the "World Cup". Brazil is always the first team that is mentionned on TV and in the news. Paulo César is my favorite (football player)."
Q: "Gilberto Gil sold 500,000 copies of "Não chores mais" (a rendition of "No woman, no cry") in Brazil. How do you explain that?"
A: "Well, it's easy to explain man. Reggae music has the same taste you know, the same roots and temperature that samba has. We are close."
Q: "Do you see Bob Marley as a rock superstar?"
A: "No man...that's a mistake you know. And I play reggae music...not rock!!!! (laughing). I'm... I'm not a "Mick Jagger", my music spreads another message. And reggae is not a moment music like Twist was. In England, the Ska is coming back on the radios, and those who are listening to it are the young generation, even white people. Reggae is growing man...just wait and see."
Q: "Bob, can you send a message to the Brazilian people?"
A: "Man, it's easy to see that the Brazilian people have rhythm, have bossa, not just in the way they move and talk, but in the interest they show for music, in all musical manifestations. I would really like to have the opportunity one day to have a deep relationship with this people. I have just spent 2 days here, but I have enjoyed all the time I have spent and I got the chance to know musicians that make a good work like Gilberto Gil. I played some football and I will come back in September to play here and get close with the people."
It is particularly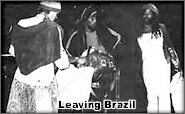 interesting to hear Bob mention the Ska revival, as at the same time he was recording the Uprising album that features a Ska track ("Bad card") again, almost 15 years after he recorded a Ska track for the last time. He had also mentionned his interest to record Ska again in an interview in Paris in 1978. Bob, Jacob Miller, Junior Marvin, Chris Blackwell and Nathalie Delon left Brazil the same afternoon at 4 pm. To the last question - "What is the vision that Bob Marley has of Bob Marley?" - that a journalist asked him before he boarded his plane, Bob answered: "That he is a sufferer".
The next day, Bob Marley, Jacob Miller and Junior Marvin were interviewed (very high, and in a joyful mood) in the airport of Saint Martin, still on their way to Jamaica (to hear a sample, click: ). On March 23, Bob had been interviewed by the french journalist Hélène Lee earlier and was playing football in the Tuff Gong yard when Alvin "Seeco" Patterson stepped out of his car, shouting that Jacob Miller has just died in a car accident.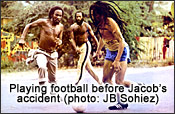 The accident took place on Hope Road: Jacob was tired because of the trip to Brazil and lost his concentration when he was trying to take care of his children who were in the back of his car (he was still at Tuff Gong only 2 hours before it happened). And as everyone knows, Bob passed away a little bit more than 1 year later. Those are the 2 reasons why one of the most interesting projects never materialised. Bob had enjoyed Brazil so much that he was planning to organize a south american tour and play in Brazil after the european and north american legs of the Uprising tour, with Jacob Miller and Inner Circle opening the shows. But after only 5 shows in the USA, the Uprising tour had to be cancelled because of the advanced stage of Bob's cancer. And Paulo César can still remember another interesting project that Bob had: "Before Bob went back to Jamaica, he asked me to help him with a project he had. He wanted to create a "football school" in Jamaica, but Bob got sick and unfortunately I never saw him again."
Sources: Jornal do Brasil, O Globo, Folha de São Paulo, Jornal da Tarde, Estado de São Paulo, Domingo Magazine, http://www.globalsite.com.br/massive/bobnorio.htm.