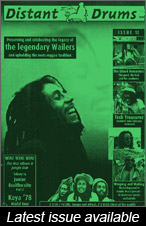 "Distant Drums" is an english magazine about Bob Marley, Peter Tosh, Bunny Wailer and the Wailers. It is written by fans and collectors, for other fans and collectors, and is read almost all around the world. Since the first issue in 1994, the magazine has evolved into a profesional looking publication. In every issue you will find the latest news, exclusive interviews with Bob Marley related artists and family, reviews of the latest Marley/Wailers releases, an exhaustive discography, rare pictures, ads, and much much more. Essential! If you are a Wailers fan, you can't do without it!
"Distant Drums" is available from several outlets such as Reggae Revive and Dub Vendor in the UK, among others (check the links page). However, it might be easier for you to suscribe to the magazine. To suscribe to the next 4 issues (prices including postage), send:
UK & Europe: £14 - Rest of the world: £20 / US$ 32
To: Jeremy Collingwood, Distant Drums, Cry Freedom Productions, PO Box 191, Oxford, OX2 9FH, England.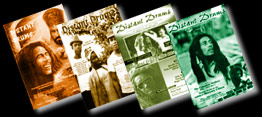 Methods of payment:
> UK: Cheques, postal orders, and bank notes.
> Rest of the world: Cheques drawn on a UK bank in Sterling, and UK banknotes. If you send foreign currency cheques, cheques drawn on a bank outside the UK, or foreign bank notes, you should add £2 / US$ 3 conversion charge.

The new issue (# 12) is available right now, and the website is ready. Check it out:
www.distantdrums.org